The trade and distribution of fashionable handbags and accessories has always had one main landmark: the leather. Whether we talk about natural leather – such as vegetable tanned calf, and pigskin – , or more special materials such as exotic leather with all its numerous options – from python to ostrich and genuine crocodile – or even other kinds of leathers obtained from aquatic species, the most important thing is that the product can rely on a raw material that preserves its original characteristics of refinement and elegance over the passage of time, as well as its flexibility, softness and versatility....in a word, all that fabrics cannot guarantee over the years!

While new trends push innovation to the maximum, aiming towards a wide degree of experimentation for the ultimate in originality and creativity, mixing together very different materials, we at Gleni have focused our experience on the most prestigious and classic exotic leather, which is never banal or predictable.
Being deeply attached to the classic style that last a lifetime, without disdaining the latest fashion trends, we have recognized in genuine python, ostrich and crocodile (even in its alligator variant), the real key to luxury and prestige at its purest level.
Recognizing the high quality and reliability of these leathers, we have taken the liberty of experimenting with this precious material so as to satisfy both the most restrained taste and  needs, and those who love originality and an over-the-top lifestyle, while still enjoying the elegance and refinement of this leather.
In this way Gleni has created a wide range of products and fashion accessories -  women's handbags, belts, wallets, shoes, and also professional bags and travel accessories – for both women and men to enjoy the caress of softest leather: there's no point putting together a sophisticated and self-confident image unless your whole look is polished enough to put across the message you want to give.
Do you want something effectively reliable? Turn your attention to exotic leather, and remember, there is specific solution for every need!
---
PYTHON LEATHER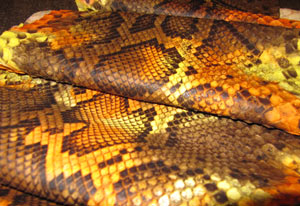 When you want to display the strong and unconventional aspect of your character, python leather is the perfect match: a powerful and self-confident material in its look, but at the same time soft and delicate to the touch, it can convey the most pleasant sensations, with its characteristic scales that tend to naturally open over the years, endowing the product with even more prestige and refinement.
There is nothing softer and lighter than a genuine python leather handbag.
Its extraordinary flexibility, together with its extreme versatility, makes this leather adapt well both to soft and unstructured designs, and to more structured ones: over the years this leather will perfectly take on the shape of each design, including shoes, belts, wallets and many other small leather accessories. Given the amazing absorbent quality of this leather, it is possible to obtain a wide palette of colors, from the most unusual shades, that highlight the original pattern of he animal, to the more classic and homogenous tonalities.
Gleni's collection of genuine python leather presents the following leather categories:
Classic
Velvety Elegance
Brilliant
Shocking Bright.
These python leather options, although from different animal species – python reticulatus, curtus or bivittatus – are all equally elegant and exquisite , it is just the dyeing processes that differ.
"Classic" python leather
this leather is generally made in very restrained and classic shades with some more vivid streaks but always quite even, highlighting, in a very delicate and subtle way, the natural python design.

Roccia

S5

T.Moro

Verde

Rosso

Celeste

Nero

Blu

Piombo

Nero lucido

Noce

Roccia lucido

Rosso lucido

Rosa

Brick-red

Ghiaccio

Natural sand

Panna

Viola
---
"Velvety Elegance" python leather:
this leather is characterized by neutral and absolutely homogeneous colors where the python leather is decolorized in order to lose the natural python pattern, gaining in softness and delicacy and assuring a velvety aspect look.

Apricot

Bisquit

Lead

Military Green

Noisette

Panna

Tortledove

Violet Brown
---
"Brilliant"" and "Shocking Bright" python leather:
these categories are characterized by bright and vivid colors, both in the matt and shiny versions, to highlight the strong and self-confident aspect of the python. As a further point of difference, Brilliant python leather also displays a metallic finish that creates intriguing plays of light, combined with the main color of the leather.

Brilliant Cream

Brilliant Copper

Tortledove

Light Pink

Peach

Pink

Silver

Iride
Iride Beige Argento

Ir Viola Argento

Met. Cel. Arg.

Arg. Pesca

Met. Oro Celeste
---

2006/59

2006/6064

2006/101

"006/61

Orchidea

Alfa grano

Alfa turchese

Alfa viola

Design gr.

design blu

Autunno

Cherry

Terra

Land

Sunset

Poison aranc.

P. giallo ar.

P. giallo verde

Rosa antico

Smoke

Spring

Storm

Tropical
---
OSTRICH LEATHER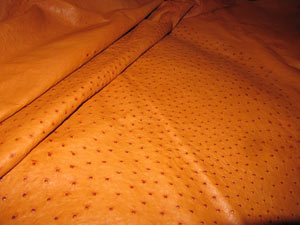 To convey character and personality to simple accessories and handbag models, ostrich leather is the number one. Soft to the touch, enduring over the years and water repellent, this leather has long won every designers' heart, especially for the particularly supple surface it is renowned for.
The high grade of flexibility and versatility makes this leather useful for the most varied interpretations, always giving elegance and glamour, becoming more and more beautiful and bright over the years, without losing any of its quality.
The attractive polka dot texture of the quill patterns gives warmth and depth to the leather, allowing us to distinguish differences and appreciate the qualities: the more follicles present on the leather -  which are the last signs of the original feathers – the higher the quality of the leather.
The most desirable part of the ostrich skin is the crown, the back of the bird, where its neck meets its body, which is patterned by the characteristic quill follicles: this is why this section is called the "diamond".
Moreover, the perfect adaptability of the leather to the dyeing process allows us to get an impressive palette of colors, richer and richer, season after season, offering plenty of creative and experimental freedom.
 
To create your perfect accessory, and assure you a truly prestigious look, here below we show you the most classic shades of ostrich leather, without forgetting that we can obtain infinite colors, including our latest one which produces a pearlized effect, as if the leather were pure satin.

---
CROCODILE OR ALLIGATOR LEATHER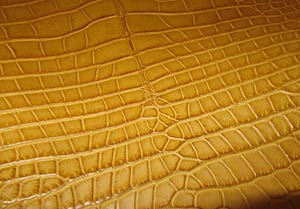 Genuine crocodile or alligator leather can be considered the king in the exotic  leather category: nothing more than this strong and sensual leather offers the perfect combination between luxury and elegance, for bags and fashion accessories that will become a real investment for the future.
The price – perhaps exorbitant at first sight – for these products, tells you much about the refinement and quality of this leather: a resilient and self-confident leather, like the person who will wear it, without losing that soft and delicate touch like a caress.
The outstanding feature of genuine crocodile leather lies in the natural distribution of its scales, showing a more even and rectangular shape in the central section of the belly – generally considered the softest and most flexible part of the animal –gradually getting smaller and rounded at the sides.
Despite the scary look of the animal, its leather perfectly takes on the design of each bag or accessory: it can be used both with structured lines – that last over the years, without losing its original characteristics – and with the softer models, where it highlights the special visual effect of the differently shaped scales.
While crocodile is generally known in its numerous brown variants, remember that it is also a kind of leather that can be easily dyed, so it is possible to obtain a great variety of nuances.
Here below you can have a look at our wide range of the colors most in demand, remembering that it is also possible to get whatever shade might satisfy your taste and need, both in matt and shiny finishes.
Lose yourself in this rainbow of colors!

ASISSI

AMBRA

BORDEAUX

BOTTIGLIA

BRANDY

COGNAC

DESERTO

GEMMA

GIALLO

ISCHIA

LAMPEDUSA

MAIS

OLMO

ROSSO

SMERALDO

T.MORO

TUNDRA